In today's fast-paced business environment, companies are always looking for ways to save time and money while increasing efficiency. One popular solution is outsourcing services. That's where Vintti comes in: a company that offers outsourced accounting services by bringing expert Latin American accountants to US businesses.
While finding a reliable outsourced accounting partner can be challenging, what sets Vintti apart from other firms is its innovative approach, making it easier for businesses to find the right candidate.
But first, what is Vintti?
Vintti is a leading provider of outsourced accounting talent to accounting firms and SMBs in the United States. Their team of professionals come from all over Latin America and go through a very innovative training process to ease integration and onboarding before they get to your company. This way they promise a high quality service in less time than most US solutions or even an in-house team. Interesting, right? So let's take a closer look at what Vintti offers and why you should consider outsourcing your accounting to them.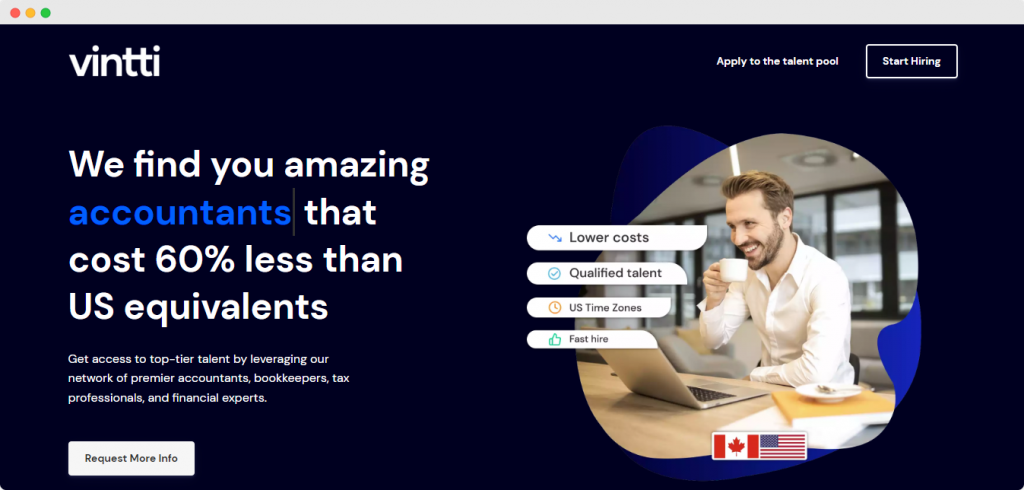 Expert Outsourced Accounting: Quick Hiring and Perfect Fit in Under 2 Weeks
Vintti promises a fast hiring process to get the right talent in less than two weeks. They take care of the search and matching, so you can focus on growing your business.
The company has a selected pool of candidates with over 1,000 highly qualified accountants in Latin America who have been through a rigorous selection process to ensure they meet Vintti's standards. This way, businesses save time on recruiting and onboarding while ensuring they get the right talent on your team.
Outsourced accounting companies such as Vintti give you access to worldwide talent for every specialty your firm needs, such as auditor/controller, budget analyst, accounts payable specialist, tax specialist, and financial controller.
Seamlessly Integrate Outsourced Accounting with US Culture-Savvy Candidates
One of the challenges of outsourced accounting is ensuring a good integration between the new accountants with the in-house team. This is why Vintti trains their candidates to work on a similar business culture to that of US businesses. This ensures that the outsourced team can seamlessly integrate with the in-house team, reducing communication barriers and increasing productivity.
Same Time Zone Communication for Outsourced Accounting with Ease
Communication is key when it comes to outsourced accounting . Because Vintti understands this, they operate in the same time zone as US businesses. This means that companies can expect quick responses to their inquiries and fast delivery on every task.
Another advantage of partnering with Vintti is that the company offers various ways to contact them via phone, email, or chat, ensuring that you get the support you need when you need it. All of this translates to a smoother workflow.
Save Up to 60% on Outsourced Accounting Costs vs. US Solutions.
There is no discussion that cost-saving is one of the most important advantages of outsourcing accounting with Vintti. By leveraging the lower cost of living and wages in Latin America, Vintti can offer up to 60% lower costs than comparable US solutions. This allows businesses to save money on labor costs without sacrificing quality.
Outsourced accounting also comes with other cost-saving benefits, such as saving office space, equipment, and software licenses. Every Vintti's accountants work remotely, which means you don't have to worry about providing a workspace for them.
Final Thoughts: Is Outsourcing to Vintti the Right Choice?
Getting Vintti's service of outsourced accounting could be a smart choice for businesses looking to save costs, increase efficiency, and work with a team of premier accountants, bookkeepers, tax professionals, and financial experts. This can be an effective way to streamline your business operations and focus on what you do best.
With their innovative approach, you can be sure that you're getting quality outsourced accounting to meet your business needs. So, if you're looking for a reliable partner, look no further than Vintti.